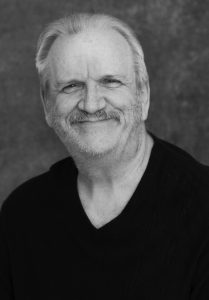 John has been acting and directing for longer than he wants to admit and has p
erformed at Swift Creek Mill Theatre, the Jewish Community Center, Salisbury Presbyterian Church, and of course BLT productions. 
His favorite roles over the years have been Jean Valjean (Les Mis), Tevye (Fiddler on the Roof), God (Children of Eden), Judas (Jesus Christ Superstar), the voice of the plant (Little Shop of Horrors) and Charlie Brown (You're A Good Man, Charlie Brown).  He is most comfortable these days behind the scenes directing, which luckily BLT has given him the opportunity to do with his longtime collaborator, Beth Mercer.

John is also passionate about teaching which he has done for 42 years as of 2017.  His current position as a middle school history teacher at St. Benedict School in Richmond is a dream job.  John's strongest passion is being a dad to his son J.D.  J.D. helps to keep him grounded and young at heart.  John is looking forward to help build on the strong start of BLT and make it a safe place for all who want to be involved in the theatre.
Contact John: john@brokenlegtheater.org