You don't have to be in the limelight or directing the spot light to be part of Richmond Magazine's 2018 Best Local Theater Company.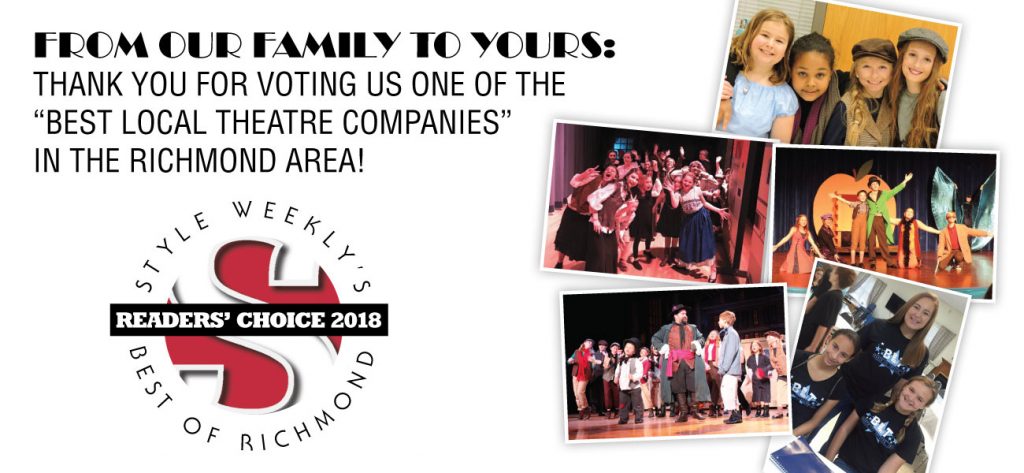 Become A Season Sponsor or donate to Broken Leg Theater and show your support.
Any tax deductible donation to Broken Leg Theater by you or your business helps us ensure access to quality, family friendly theater for our entire community. Last season alone over 185 adults and children produced three shows with a combined audience of over 700!
All donors will be recognized in our three show programs for the 2018-2019 season. Additional perks are available for those who donate $50 or more or pledge to become a Season Sponsor.
2018 – 2019 Donation And Season Sponsor Levels:
Patron level:  $1 – $50 donation, includes name in show programs
Assistant Director level: $50-$99 donation, includes name in show programs, one ticket to one show of your choice
Director level: $100-$249 donation, includes name in show programs, one ticket to every show
Associate Producer level: $250-$499 donation, includes name in show programs, two tickets to every show, $20 merchandise voucher
Producer level: $500-$999: includes name in programs, two tickets to every show, $20 merchandise voucher, VIP early entry into each show
Executive Producer level: $1,000+: includes name in programs, full page ad in programs, two tickets to every show, $40 merchandise voucher, VIP early entry into each show